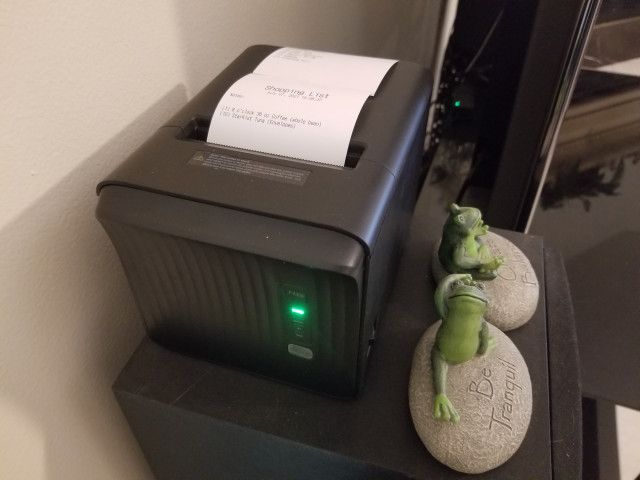 We've been around the block with shopping lists. From a piece of paper with handwritten notes to desktop PC created lists printed on 8.5x11" paper to apps like Out of Milk on the phone, we've done it all.
And we've been less than happy with all those. Now that Out of Milk has been sold, we're pretty sure it's time to find a better way. My wife had already told me she felt uncomfortable using Out of Milk on the phone at the store. It seems inevitable that sooner or later the phone would be knocked out of her hand or dropped accidentally.
Then I had a thought. What if we just used Excel or LO Calc to keep our shopping list, and printed it to take to the store. But that letter sized paper is just unwieldy when you're negotiating the aisles with a cart.
What would be great would be a list on a receipt sized printout. Like from a receipt printer. Hmmm . . . a receipt printer. I wonder . . .
The answer is, "YES!" Here's what we did. We made a simple spreadsheet with tabs for different categories of items, and four columns on each sheet: Qty, Brand, Size, Description. Then I wrote a Python app that runs through the sheets in this spreadsheet, and compiles a list of every row that has a 1 or more in the Qty column.
Then it prints to a LAN attached receipt printer that I bought on Amazon for under a hundred bucks. This is sorta high-tech, but it is definitely Best-Tech. Sometimes cloud-based, cellphone-centric is not the absolutely best answer to a problem. Sometimes simpler is better. Best-Tech.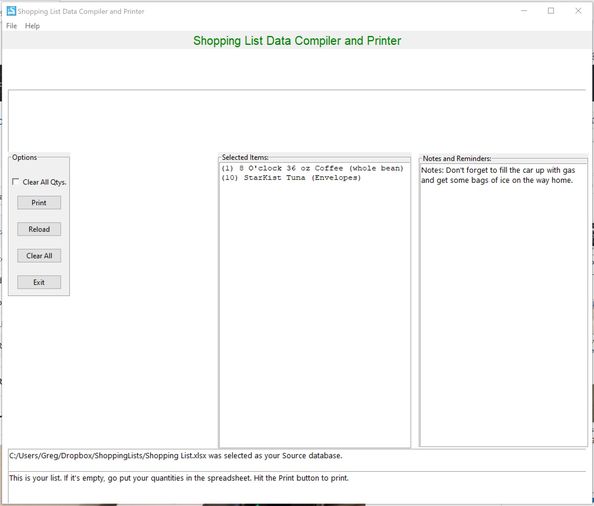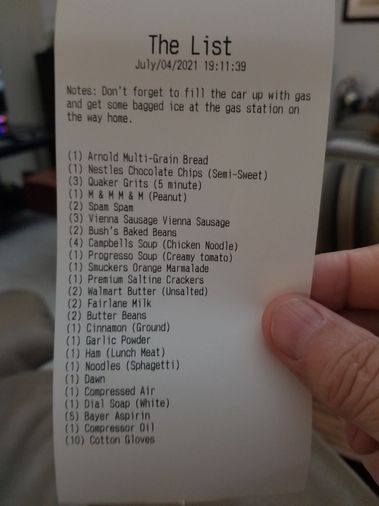 )
This is, quite frankly, the most awesome shopping list method we've ever used. It's quick, convenient, easy and we are not sharing our shopping habits with any unknown third party. You can check it out on Github if you want.
This is definitely another Thing That Works.
UPDATE I added an option to generate a PDF version of the list which can be stored on OneDrive or Dropbox or whatever. Then you can have it on your phone as a backup, or even use that method as your primary list if you choose.
That post is here.